Traditional Crafts in Aichi
Nagoya Kiritansu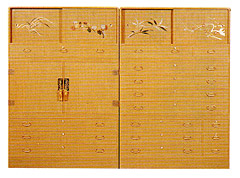 Date when designated as a traditional craft
June 22, 1981
Major products
Chest of drawers made of paulownia wood
Local association
Nagoya Kiritansu Industry Cooperative
Telephone: 052-263-0910
Facsimile: 052-264-4736
History of manufacturing districts
The origins of Nagoya Kiritansu date back to about 420 years ago (in the Edo period) when craftsmen involved in the construction of Nagoya Castle settled in the castle town and manufactured chests of drawers and large oblong chests.
Nagoya is located near the area where Hida paulownia is grown (in Gifu Prefecture), and raw material of high quality was readily available. This geographical advantage made an important contribution to the development of the industry.
Features of the products
Nagoya Kiritansu is about 20 centimeters wider than chests of drawers manufactured in other areas, and nails made of hiba or other materials of similar quality are used.
Nagoya Kiritansu is well known as a high-quality brand for its moisture-proof, thermal insulation performance as well as minimal warp.
Manufacturing method
The manufacturing process (comprising about 130 steps) can be roughly divided into bucking, conversion of timber, straightening, decoration and fitting. The whole manufacturing process is undertaken by one craftsman.
Components made of pure paulownia boards are joined with traditional box joints. In the finishing process, the surface is burnished with a bundle of roots (from a type of pampas grass), colored with a mixture of liquid extracted from the seeds of a type of alder and powdered whetstone, and then lightly waxed.
---