Profile of Aichi
Aichi Overview
Location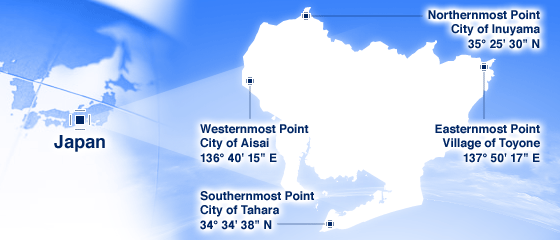 Geography and Climate
Aichi Prefecture is located roughly in the center of the Japanese archipelago and is bordered by Mie, Gifu, Nagano, and Shizuoka Prefectures. Aichi faces the Pacific Ocean to the south, bordered by the Ise and Mikawa coastlines.
Located in the western part of the prefecture is the Nobi Plain—the second-largest plain in Japan—which was created by the Kiso River. The plain is bordered on the east by the Owari Hills, which extend southward where they form the Chita Peninsula. The Yahagi River flows through the center of Aichi, from the Mikawa Mountains to the Okazaki Plain, which was formed by the river. In the east the Toyohashi Plain was formed by the flow of the Toyo River, running from the Shitara, Yana, and Yumihari Mountains. The Atsumi Peninsula is an extension of the Toyohashi Plain.
The climate of Aichi is influenced by the Kuroshio Current, a Pacific Ocean current, and is generally mild as a result. Nagoya, which is situated in a plain, is remarkably hot in the summertime, experiencing higher summer temperatures than the lowland cities of Okazaki and Toyohashi.
The average annual rainfall in the mountainous part of Aichi is relatively high compared to that of the plains and peninsular regions.
---