Disaster Prevention
What Happens upon Designation as a Sediment-related Disaster Warning Area/Sediment-related Disaster Special Warning Area?
When designated as a sediment-related disaster warning area/sediment-related disaster special warning area…
Sediment-related disaster warning areas
The municipality concerned improves the warning and evacuation system to facilitate dissemination of disaster information and evacuation.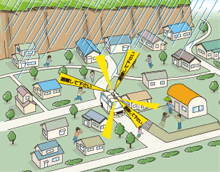 Please obtain the latest weather information as well as disaster prevention information offered by municipalities.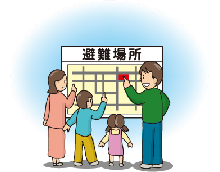 Please check evacuation routes and evacuation sites.
---
When a sediment-related disaster is forecasted due to heavy rain, please evacuate in advance.
Sediment-related disaster special warning areas
A license is needed to undertake certain development actions.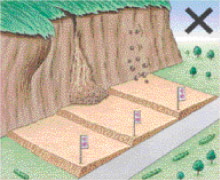 When selling residential lots and houses, or undertaking development actions (including construction) for facilities that house people who need support in case of a disaster (social welfare facilities, medical facilities, etc.), a license is needed to ensure safety.
Designation of these areas is intended to restrict the construction of buildings in dangerous places.
Construction of a house is subject to approval of structures/regulation of structures.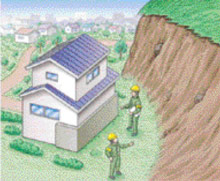 Approval of structures is needed to ensure that the structure of a house can safely withstand the force of sediment, etc. that is estimated could act on the house.
When constructing a house, it is necessary to set up strong walls or retaining walls that can withstand the force that is estimated could act on the house.
Advice is given to relocate buildings, etc.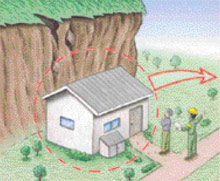 The prefectural government may advise owners of buildings that may suffer great damage, etc. to relocate such buildings. Financing and other support programs are available to those who relocate such buildings.
When there is no chance of ensuring safety by reinforcing buildings, etc., advice may be given to relocate such buildings.
---