Facts and Figures of Aichi
Aichi is located in the center of Japan and is the industrial capital that boasts both technology and tradition. It is one of Japan's top-ranked prefectures in many other fields besides industry. Below is some basic data on Aichi.
Items
Aichi
Rank


out of all 47 Japanese prefectures

Japan
Population※1
7,542,415
4
126,146,099
Manufacturing
Business Establishments※2
15,063
2
181,877
Employees※2
848,565
1
7,717,646
Annual Value of Manufactured Goods Shipments※2
47,924,400
million yen
1
322,533,400
million yen
Commerce
Business Establishments※3
77,110
3
1,355,060
Employees※3
724,971
3
11,596,089
Annual Sales of Goods※3
41,656,500
million yen
3
544,865,900
million yen
Economy
Nominal GDP※4
40,937,200
million yen
2
565,586,500
million yen
Per Capita Income※4
3,728,000 yen
2
3,317,000 yen
Agriculture
Farming Households※5
61,055
6
1,747,079
Market Gardeners※5
25,906
19
1,027,892
Agricultural Output※6
294,900
million yen
8
8,938,7000
million yen
Foreign Residents※7
280,912
2
2,961,969
Population Census (2020), Ministry of Internal Affairs and Communications (MIC)
Census of Manufacture by Respective Industry (2020), MIC and Ministry of Economy, Trade and Industry (METI)
Economic Census for Business Activities (Wholesale and Retail Trade) (2016), MIC and METI
Annual Report on Prefectural Accounts (2018), Cabinet Office
Census of Agriculture and Forestry (2020), Ministry of Agriculture, Forestry and Fisheries (MAFF)
Agricultural Output and Agricultural Income Produced by Prefecture (2019), MAFF
Statistics on Foreign Residents in Japan (June 2020), Ministry of Justice
Aichi—"Heart" of Japan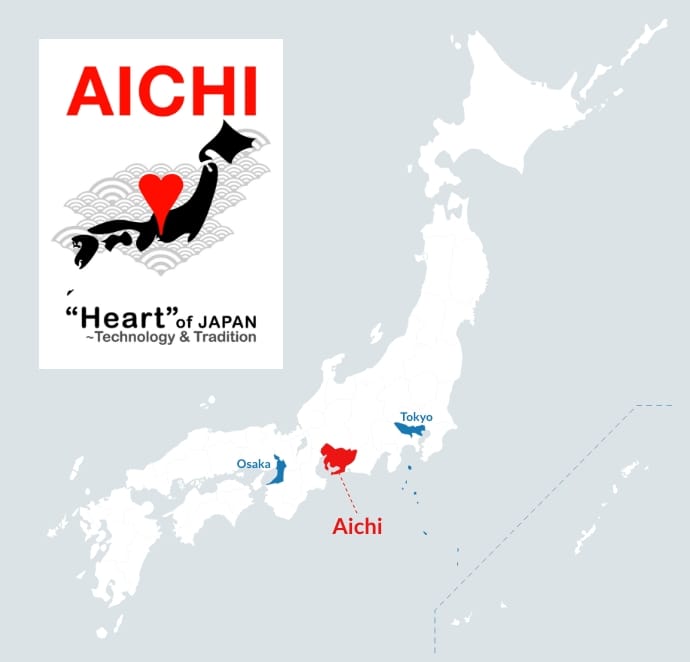 Located in the center of Japan, Aichi forms one of the three major metropolitan regions in the nation along with Tokyo and Osaka. Aichi is a major transportation hub for the rest of Japan with many expressways, major national highways, and Shinkansen, as well as for the rest of the world via Chubu International Airport (Centrair), the Port of Nagoya, and the Port of Mikawa.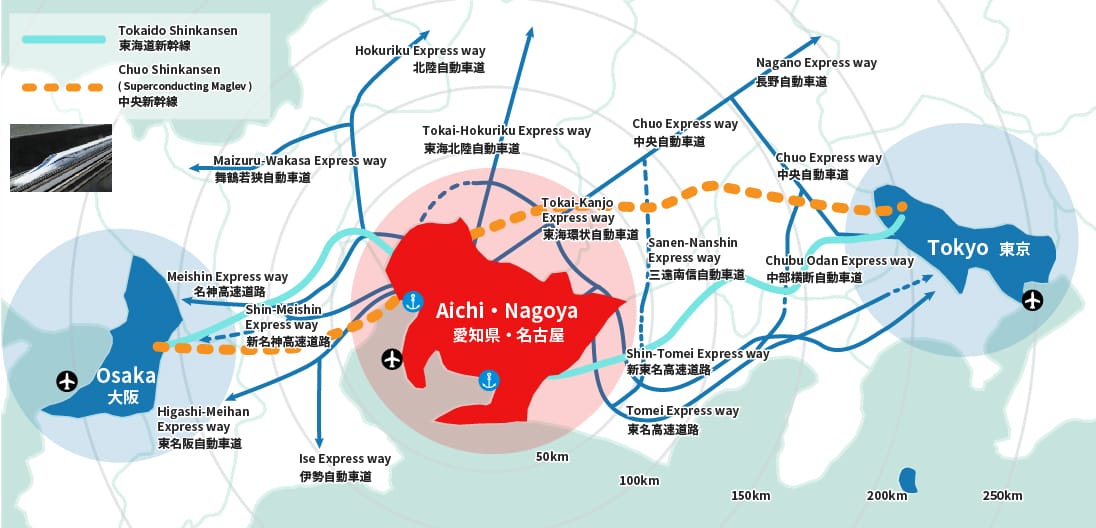 Chubu Centrair International Airport, Aichi's gateway to the world, is a 24-hour airport with an extensive network of international and domestic flights. It is conveniently located, 30 minutes by train or 40–50 minutes by car from central Nagoya.
The Port of Nagoya handles the largest total cargo volume in Japan, while the Port of Mikawa imports the largest number of automobiles in the nation.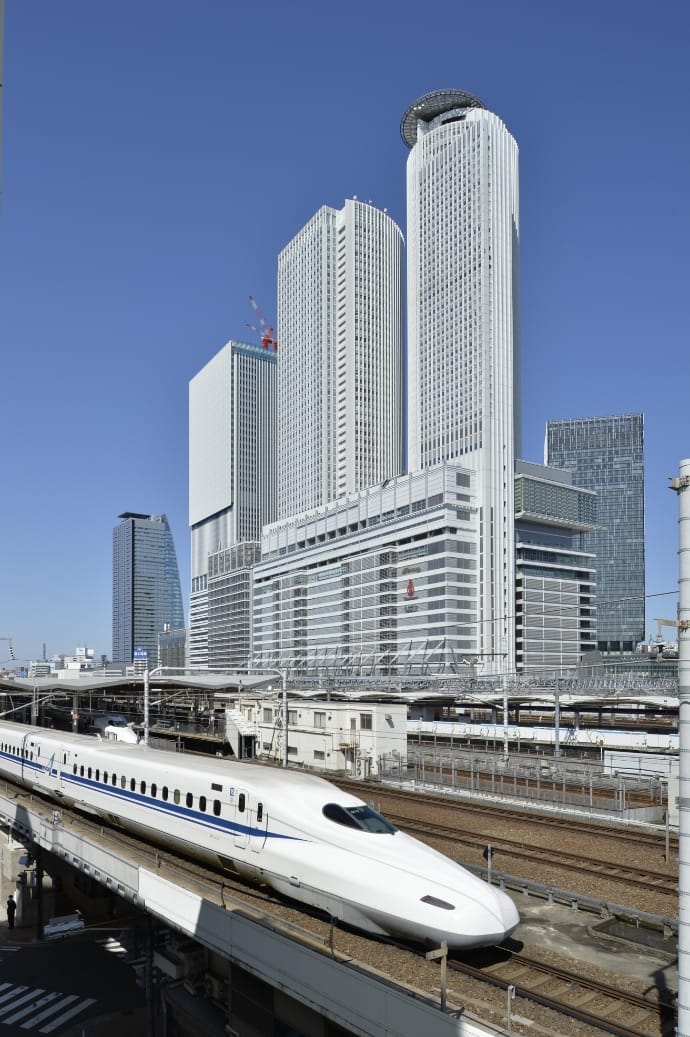 From Nagoya, Tokyo can be reached approximately in 90 minutes and Osaka in 50 minutes by Shinkansen. Located in the center of Japan, Aichi is accessible to and from all cities in the country.
Super Mega Region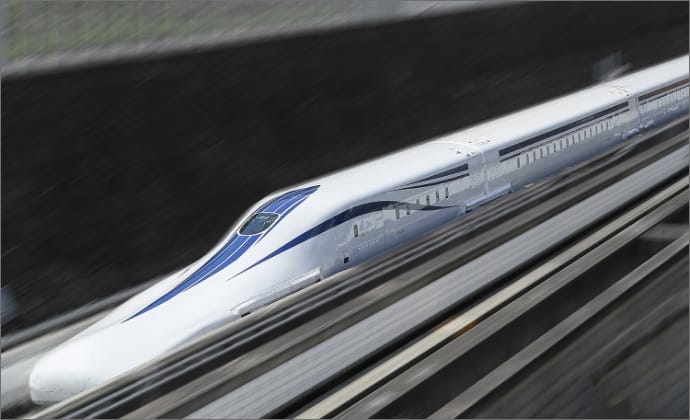 The Chuo Shinkansen line, which will use superconducting maglev technology, is scheduled to open in 2027. It will connect Tokyo and Nagoya in 40 minutes as well as Tokyo and Osaka in 67 minutes at quickest. Furthermore, the full opening of the entire line will connect the three metropolitan areas of Tokyo, Central Japan, and Kansai, thereby creating a super mega region with a population of 70 million and the largest scale of economy in the world.
Living in Aichi
Aichi offers a remarkably low cost of living that enables its residents to maintain a comfortable standard of living. The consumer price regional difference index※1 for Aichi is 98.4 (the national average is 100), which is significantly lower than other major regions such as Tokyo with 102.7. Rent level※2 and the price per square meter of residential land and buildings※3 in Nagoya is about half of them in Tokyo.
Retail Price Survey (Structure) Results (2021), Statistics Bureau of the Ministry of Internal Affairs and Communications (MIC)
Retail Price Survey (Trend) Results (2021), Statistics Bureau, MIC
Prefectural Land Price Survey (2022) and Residential Land and Building Transaction Prices (2021), the Ministry of Land, Infrastructure, Transport and Tourism
At the Aichi Multicultural Center, multicultural social workers provide multilingual consultation services for foreign residents of the prefecture on matters related to their daily lives, as well as a variety of information. For more details, please visit the following web links.